UPCAT Tips
Issue #6
How to Ace Any Multiple-Choice Test Like the UPCAT
Part 1
Test-Taking Strategy #1. This next set of tips may sound too early because these tricks would be applied during the time that you would be taking the UPCAT. But I decided to give them to you now since you have already decided to review this early for the UPCAT. And since you would have the privilege to practice on hundreds of our Compiled UPCAT Questions, you might as well practice applying these test-taking strategies that made several average students ace multiple-choice tests such as their Long Exams, Quarterly Exams, and of course, the UPCAT. The first strategy is my personal favorite. This strategy allowed me to get higher scores on subjects that I least like. This strategy made me enjoy taking Multiple Choice Tests as if I was just playing Sudoku. This strategy along with the other test-taking strategies I am going to share made Sir Neb (one of the authors of 37 Tips on How to Pass the UPCAT the Sure Way) landed the 6th spot in the Master Electrician Licensure Examination without reviewing for it! The first test-taking strategy is called Eliminating Wrong Answers. I will explain to you first why this strategy could help you score higher in a multiple choice test. We will be tackling…
Probability. If, for every item in a multiple-choice test, there are four choices, what is the probability that you would get the correct answer? If you will just have a wild guess, then it is one-out-of-four or 25%. But, if you know that one of the choices is wrong, you will NOT choose it! This increases the probability of getting the correct answer to one-out-of-three or 33.33%. What if you could eliminate two choices because you are sure enough that those choices are impossible answers? Then the probability now becomes one-out-of-two or 50%! You've already doubled your chance of getting the correct answer! Now, this is the most enjoyable part in a multiple-choice test: You don't have any idea on how to answer the question  or to solve a numerical problem. But based on the choices, you know that not only one, not only two, but three of the choices were completely wrong! What is your probability? Yes! One-out-of-one or a remarkable 100%! Impossible? No! I myself had encountered a lot of questions wherein I had eliminated all the choices EXCEPT for one. And what would I conclude? Of course, I would smile my biggest smile because I was 100% sure that the remaining choice is the CORRECT ANSWER! And that's where the fun begins! My confidence in answering the remaining parts of the test was boosted-up. Instead of getting nervous, I got so excited to finish the test knowing that I could really maximize my score in that test. The UPCAT like any other multiple-choice test is also a probability game. You could probably answer the majority of the items with ease but for those items you don't know how to answer, then this strategy is very helpful. Remember, it is not just getting the correct answers; it is about having the most number of correct answers as possible. You need to score higher than your fellow examinees. You might ask, how can this strategy of Eliminating Wrong Answers be mastered? Like the rest of the strategies I am going to share with you, this strategy is a skill. And a skill is mastered through…
Constant Practice. Yes, by applying the skill while you are reviewing the Compiled UPCAT Questions, you would be able to master it. It would at first slow you down, bore you, or even irritate you. Don't worry. It is just normal for any beginner. Especially if you're more used to wild guessing (that is, inny-minne-minny-mo) when encountering tough questions. But I tell you, as a novice of this skill, you need a conscious effort to master it. My advice? While answering an item, try to open a reference (book or internet site) and from those resources, try to establish a basis to eliminate one or more choices as wrong. By doing this, not only that you are enhancing the skill but you are also adding basic knowledge about the topic you are reviewing. So that's hitting two birds with one stone! You get smarter and at the same time more intelligent!
YouTube Link. The following is a video presentation of Test-Taking Strategy #1: Eliminating Wrong Answers.
In the next issue I will discuss the most practical test-taking strategy you need when answering numerical problems in Mathematics, Chemistry, or Physics. So stay online!
Helping you pass the UPCAT the Sure Way,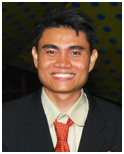 Sir Laset
________________________________________________
Enroll NOW to our Online UPCAT Review (OL-UP Review) or call/text 0922-8-REVIEW for more details.